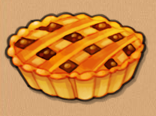 Apple Pie is an item used to grant 20 Energy.
It can be gained from the Tavern, a few from the Daily Grind event, Ranger Squad III event, and Daily Login Reward.
The main source is buying them on the marketplace, but you can buy at most 6 each day (though VIP 5 doubles this amount)
Ad blocker interference detected!
Wikia is a free-to-use site that makes money from advertising. We have a modified experience for viewers using ad blockers

Wikia is not accessible if you've made further modifications. Remove the custom ad blocker rule(s) and the page will load as expected.