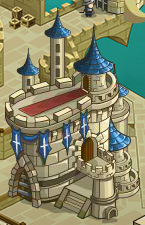 Barracks is one of the buildings of the game. It's unlocked at Kingdom Level 12.
Barracks is where you can recruit and deploy soldiers in your army, as well as increase the maximum size of the latter by upgrading the building. Your army will then first serve you to fight in Boss Clash mode of Monster's Den, which is unlocked at the same time.
At Kingdom Level 35, soldiers are also used in the Castle and Prison to defend your Kingdom and attack others.
Make sure you have a healthy buffer of available soldiers at all times. This may mean at least 100.000 soldiers until level 35, and at least 200.000 from there. This is fortunately quite cheap, but slow, and best done little by little. Keep recruiting.
Layout

Opening the barracks reveals a screen with three areas and four buttons.
The first area is the Strength Chart. It shows which towers win over which, useful information for the Fighting Pits and Prison. Warriors -> Cannoners -> Archers -> Mages -> Warriors
To the right of the Strength Chart is the area for recruiting soldiers. here are:
Your current Available soldiers for battles.
Recruitable soldiers - the maximum number of soldiers you can recruit each time (Each recruitment has a cool down period after use).
Your Barracks Level
There are two buttons in this area, one to upgrade your barracks and other to recruit soldiers. The +/- and > buttons set the numbers of soldiers to recruit. Need Gold shows the gold needed to recruit the selected number of soldiers.
Upgrade Barracks
The upgrade screen is fairly self-explanatory, showing the individual recruit limit and deploy maximum for your current level and the next. Below this information it will tell you the cost of that upgrade, and offer you the chance to purchase it, if you have necessary gold and resources (see table below).
You will need it for winning Fighting Pits, Boss Clash and Prison.
NOTE: This is just one of the places when you can increase the maximum size of your army. You can also do it in the Hall of Heroes by improving the soldiers your heroes command (see Soldiers Improvement), a process that mostly uses Tears of Shiva (and a big pile of tears--he he--to make any notable difference). You can also increase your maximum number of soldiers at the Rural Camp.
Recruit Soldiers
The number of soldiers you will recruit is determined by the amount of gold you spend on the action, and capped out by the level of your Barracks (see table below). Enter the amount of gold you want to spend first (in practice, use the button for "all you can"), as it defaults to one gold, the minimum amount.
This is relatively cheap. You get around 28 soldiers for each gold spent. However, as you should have a buffer, this can add up. The 200.000 soldiers buffer recommended has a cost around 7000 gold. And depending on your Boss Clash preferences (battling the highest enemies you can defeat causes you to lose more soldiers) and Prison strategies, you may need to replace 100.000 soldiers a day or even more around Kingdom Level 35-40. Take all of this into account. See Prison and do NOT cross the level 35 barrier until you have grown your Kingdom's Battle Power sufficiently to repel attacks from kingdoms 5 Levels above you, (upgrading your Hero's training-equipment, etc. and your Rual Camp and Barracks. Your Barracks is important and should always be the same level as your kingdom level. Do this and Prison should not be much of a problem.
Recruiting is a slow process that must be done repeatedly. Even worse, as you level up your cooldown will not rise the same as than the number of soldiers you can recruit at once. This changes with barracks level (see below), but you will start being able to recruit up to 60.000 soldiers/hour (provided you are always ready to click the button on time), and this will drop to around 40.000 soldiers/hour with medium levels. Only when you reach the maximum cooldown (10 minutes, at Barracks level 38) this will change, and from level 41 onwards you will be able to recruit quicker than at the start of the game. Keep it in mind.
Soldiers Deployed
The third section, below the other two, shows each unit type, and the current size of your army. The maximum size has already been determined by barracks level and outfitting the units as mentioned above. This section allows you to reduce the number of soldiers you choose to actually field. This number seems to have no impact on the PvP battle, (I've reduced mine to all zeroes and still won battles) but there is speculation that it can impact the amount of casualties taken in the Boss Clash.
Clarification: Why is there a difference between the number of available soldiers, and the maximum number that you can deploy? During the Boss Clash, you actually lose soldiers during each battle. There is the option to auto-refill your ranks between battles, which is useful as you can opt to run all of your daily allotment of battles (or any number of battles below that max) at one time. This is called a sweep. This auto-refill of the ranks of deployed soldiers takes units from the available soldiers. If there are not enough available soldiers, you fight the remaining battles with fewer and fewer soldiers. It is a good idea to have a healthy buffer of available soldiers.
The two buttons in this area are Max All, and Save Settings. If your army is depleted, or if you have increased the maximum number of soldiers you can field, you can click this button to automatically fill up your ranks, rather than raising or lower these numbers with the individual slides controlled by the red down-arrows below each of the unit types.
(NOTE: You can also drop down the unit types and re-arrange the order of the towers from here if you wish.)
The save settings button is hopefully self-explanatory.
Barracks Level Table
Barracks Level determines the maximum number of soldiers you can bring in Fighting Pits, Prison and Boss Clash, and how many you can recruit at once. You should always have a healthy buffer of soldiers so you don't run out of them, because recruiting is slow.
All resources needed to upgrade the Barracks (save Gold) are won through the Boss Clash. These resources can be bought in the Marketplace from Mysterious Store. Madantium can be earn also from Crown Port.
Barracks Upgrade Table
Table collapsed for space
Level
Deploy/Recruit limit
Upgrade Cost
Cooldown (second)
Recruit Cost (Maximum)
1
2200/1000
60
2
2400/1000
Gold 200
60
3
2700/1200
Gold 220
80
4
2900/1200
Gold 250
80
5
3200/1400
Gold 270

Madantium 1

90
6
3400/1400
Gold 300

Madantium 1

90
7
3700/1600
Gold 320

Madantium 2

100
8
3900/1600
Gold 350

Madantium 2

100
9
4200/1800
Gold 400

Madantium 3

110
10
4500/1800
Gold 430

Madantium 3

110
11
4800/2000
Gold 510

Madantium 4

120
12
5100/2200
Gold 590

Madantium 4

140
13
5400/2200
Gold 670

Madantium 5

150
14
5700/2400
Gold 760

Madantium 5

160
15
6000/2400
Gold 850

Madantium 6

170
16
6300/2600
Gold 940

Madantium 6

180
17
6600/2800
Gold 1040

Madantium 7

200
18
6900/2800
Gold 1150

Madantium 7

210
19
7200/3000
Gold 1170

Madantium 8

220
20
7600/3200
Gold 1400

Madantium 8

Rock Block 1

230
21
8000/3200
Gold 1510

Madantium 9

Rock Block 1

260
113
22
8400/3400
Gold 1630

Madantium 9

Rock Block 2

270
120
23
8900/3600
Gold 1750

Madantium 10

Rock Block 2

290
127
24
9400/3800
Gold 1870

Madantium 10

Rock Block 3

300
133
25
10000/4000
Gold 2010

Madantium 11

Rock Block 3

330
140
26
10600/4400
Gold 2140

Madantium 11

Rock Block 4

340
155
27
11300/4600
Gold 2270

Madantium 12

Rock Block 4

360
162
28
12000/4800
Gold 2420

Madantium 12

Rock Block 5

380
169
29
12700/5200
Gold 2420

Madantium 13

Rock Block 5

400
183
30
13500/5400
Gold 2790

Madantium 13

Rock Block 6

410
190
31
14300/5800
Gold 2950

Madantium 14

Rock Block 6

440
32
15100/6200
Gold 3110

Madantium 14

Rock Block 7

460
33
16000/6400
Gold 3280

Madantium 15

Rock Block 7

480
34
16900/6800
Gold 3450

Madantium 15

Rock Block 8

510
35
17900/7200
Gold 3620

Madantium 16

Rock Block 8

Magic Hammer 1

530
36
18900/7600
Gold 3800

Madantium 16

Rock Block 9

Magic Hammer 2

560
37
20000/8000
Gold 3970

Madantium 17

Rock Block 9

Magic Hammer 2

580
38
21100/8600
Gold 3960

Madantium 17

Rock Block 10

Magic Hammer 3

600
39
22300/9000
Gold 4160

Madantium 18

Rock Block 10

Magic Hammer 4

600
40
23600/9600
Gold 5050

Madantium 18

Rock Block 11

Magic Hammer 4

600
41
25000/10000
Gold 5270

Madantium 19

Rock Block 11

Magic Hammer 5

600
42
26400/10600
Gold 5490

Madantium 19

Rock Block 12

Magic Hammer 6

600
43
27900/11200
Gold 5720

Madantium 20

Rock Block 12

Magic Hammer 6

600
44
29400/11800
Gold 5960

Madantium 20

Rock Block 13

Magic Hammer 7

600
45
31000/12400
Gold 6200

Madantium 21

Rock Block 13

Magic Hammer 8

600
46
32700/13200
Gold 6440

Madantium 21

Rock Block 14

Magic Hammer 8

600
47
34500/13800
Gold 6690

Madantium 22

Rock Block 14

Magic Hammer 9

600
48
36300/14600
Gold 6920

Madantium 22

Rock Block 15

Magic Hammer 10

600
49
38200/15400
Gold 7180

Madantium 23

Rock Block 15

Magic Hammer 10

600
50
40200/16200
Gold 7950

Madantium 23

Rock Block 16

Magic Hammer 11

600
51
42200/17000
Gold 8240

Madantium 24

Rock Block 16

Magic Hammer 12

600
52
44400/17800
Gold 8530

Madantium 24

Rock Block 17

Magic Hammer 12

600
53
46600/18800
Gold 8830

Madantium 25

Rock Block 17

Magic Hammer 13

600
54
48800/19600
Gold 9130

Madantium 25

Rock Block 18

Magic Hammer 14

600
55
51200/20600
Gold 9440

Madantium 26

Rock Block 18

Magic Hammer 14

600
56
53600/21600
Gold 9750

Madantium 26

Rock Block 19

Magic Hammer 15

600
57
56200/22600
Gold 10070

Madantium 27

Rock Block 19

Magic Hammer 16

600
58
59000/23600
Gold 10390

Madantium 27

Rock Block 20

Magic Hammer 16

600
59
62000/26000
Gold 10720

Madantium 27

Rock Block 20

Magic Hammer 16

600
60
65000/26000
Gold 10725

Madantium 28

Rock Block 21

Magic Hammer 17

600
61
68000/27500
Gold 13000

Madantium 28

Rock Block 21

Magic Hammer 17

600
963
62
71250/28500
Gold 13500

Madantium 29

Rock Block 22

Magic Hammer 18

600
63
74500/30000
Gold 14250

Madantium 29

Rock Block 22

Magic Hammer 18

600
64
78000/31500
Gold 14750

Madantium 30

Rock Block 23

Magic Hammer 19

600
65
81500/33000
Gold 15250

Madantium 30

Rock Block 23

Magic Hammer 19

600
66
85000/34000
Gold 16000

Madantium 31

Rock Block 24

Magic Hammer 20

600
67
88500/35500
Gold 16250

Madantium 31

Rock Block 24

Magic Hammer 20

600
68
92250/37000
Gold 16750

Madantium 32

Rock Block 25

Magic Hammer 21

600
69
96000/38500
Gold 17750

Madantium 32

Rock Block 25

Magic Hammer 21

600
70
100000/40000
Gold 18250

Madantium 33

Rock Block 26

Magic Hammer 22

600
71
105000/42000
Gold 20000

Refined Steel 4

Rock Block 30

Magic Hammer 24

600
72
110000/44000
Gold 21000

Refined Steel 4

Rock Block 30

Magic Hammer 25

600
73
115000/46000
Gold 22000

Refined Steel 5

Silver Brick 4

Magic Silver Hammer 3

600
74
120000/48000
Gold 23000

Refined Steel 5

Silver Brick 4

Magic Silver Hammer 3

600
75
125000/50000
Gold 24000

Refined Steel 6

Silver Brick 5

Magic Silver Hammer 4

600
1751
76
130000/52000
Gold 25000

Refined Steel 6

Silver Brick 5

Magic Silver Hammer 4

600
77
135000/54000
Gold 26000

Refined Steel 7

Silver Brick 6

Magic Silver Hammer 5

600
78
140000/56000
Gold 27000

Refined Steel 7

Silver Brick 6

Magic Silver Hammer 5

600
1960
79
145000/58000
Gold 28000

Refined Steel 8

Silver Brick 7

Magic Silver Hammer 6

600
2030
80
150000/60000
Gold 29000

Refined Steel 8

Silver Brick 7

Magic Silver Hammer 6

600
2100
81
155000/62000
Gold 30000

Refined Steel 9

Silver Brick 8

Magic Silver Hammer 7

600
2170
82
160000/64000

Gold 31000

Refined Steel 9

Silver Brick 8

Magic Silver Hammer 7 

600
2240
83
165000/66000
Gold 32000

Refined Steel 10

Silver Brick 9

Magic Silver Hammer 8

600

2310

84
170000/68000
Gold 33000

Refined Steel 10

Silver Brick 9

Magic Silver Hammer 8

600

2380

85
175000/70000
Gold 34000

Refined Steel 11

Silver Brick 10

Magic Silver Hammer 9

600
2451
86
180000/72000
Gold 35000

Refined Steel 11

Silver Brick 10

Magic Silver Hammer 9

600
2521
87
185000/74000
Gold 36000

Refined Steel 12

Silver Brick 10

Magic Silver Hammer 10

600
2591
88
190000/76000
Gold 37000

Refined Steel 12

Silver Brick 11

Magic Silver Hammer 10

600
2661
89
195000/78000
Gold 38000

Refined Steel 13

Silver Brick 12

Magic Silver Hammer 11

600
2731
90
200000/80000
Gold 39000

Refined Steel 13

Silver Brick 12

Magic Silver Hammer 11

600
2801
91
210000/82000
Gold 47000

Refined Steel 14

Silver Brick 13

Magic Silver Hammer 12

600
2871
92
220000/84000
Gold 55000

Refined Steel 14

Silver Brick 13

Magic Silver Hammer 12

600
93
230000/86000
Gold 63000

Refined Steel 15

Silver Brick 14

Magic Silver Hammer 13

600
94
240.000/88.000
Gold 71000

Refined Steel 15

Silver Brick 14

Magic Silver Hammer 13

600
95
250.000/90.000
Gold 79000

Refined Steel 16

Silver Brick 15

Magic Silver Hammer 14

600
96
260.000/92.000
Gold 87000

Refined Steel 16

Silver Brick 15

Magic Silver Hammer 14

600
97
270.000/94.000
Gold 95000

Refined Steel 17

Silver Brick 16

Magic Silver Hammer 15

600
98
280.000/96.000
Gold

Refined Steel

Silver Brick

Magic Sliver Hammer

600
99
290.000/98.000
Gold 111000

Refined Steel 18

Silver Brick 17

Magic Silver Hammer 16

600
100
600
101
310.000/102.000
Gold 127.000

Refined Steel 19

Silver Brick 18

Magic Silver Hammer 17

102
103
104
105
106
107
108
109
110