New enemies include:
Broiling Wetlands Edit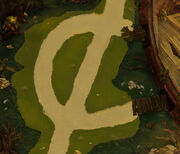 Scouts have said that a pod of Slime will be upon us in about 3 days with no way to get around themBetter to face them ready than to try to get around be snuck up on.Watch your step, the Broiling Wetlands is a dangerous terrain even without enemies.
Mode
Live/Wave/Good
Exp/Gold
Item
Recs. Lv.

Life/Atk scale

Easy
20/18/2400
750/140
Quality Fairy Wood 8%
41
3.7/1
Heroic
5/1/2200
750/190
Quality Fairy Wood 11%

Pure Air Essence 8%

44
4/1
Hard
1/6/2300
750/265
Quality Fairy Wood 11%

Pure Air Essence 8% Notch Rock 40%

45
4.3/1
Strategy
Edit
Ad blocker interference detected!
Wikia is a free-to-use site that makes money from advertising. We have a modified experience for viewers using ad blockers

Wikia is not accessible if you've made further modifications. Remove the custom ad blocker rule(s) and the page will load as expected.