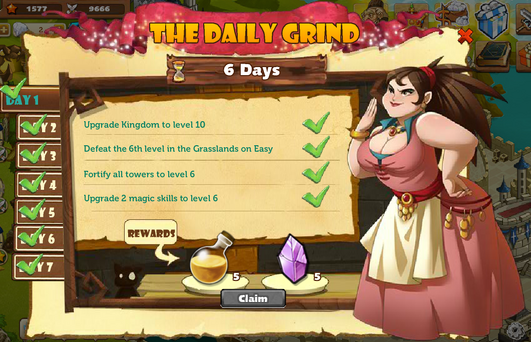 The Daily Grind is a series of tasks which can be completed to earn special rewards.
To access the Daily Grind, you must click the Daily Grind button in the upper right of the Kingdom screen. From there you can claim the prizes for the objectives you've completed.
Although they are worded as days, you do not have a time limit to complete them (plus, it would be really hard to meet the deadlines), nor do you need to do them in order.
The Daily Grind is available until it's expired, and then disappears forever. However there is time limit of 14 days - this limit only applies to you and is not linked to server time. Every "Day" requirement is doable, just keep upgrading to avoid being stuck by cooldowns. If you are not lucky to get a level 3 jewel anywhere then make explorations at the Jewel Crafter to get jewels and then Forge those.
Day 4 and Day 7 should be your goal to finish.
Day
Tasks
Rewards
1

Upgrade Kingdom to level 10

Defeat the 6th level in the Grasslands on Easy
Fortify all towers to level 6
Upgrade 2 magic skills to level 6

2

Train any hero to level 12
Battle 10 times in the Fighting Pits
Upgrade armor 20 times
Successfully augment 10 times

3

Fortify all towers to level 12
Sign-in successfully 3 times
Defeat 10 Monster Den - Boss Clashes
Own two level 2 jewels

4

Have Robin Eagleye
Own 1 piece of equipment level 16 or higher
Battle 30 times in the Fighting Pits
Fortify the Barracks 5 times

5

Upgrade 2 magic skills to level 12
Defeat the 8th level in the Grasslands on Hard
Make 2 supply runs at the Supply Station
Successfully augment 80 times

6

Battle 50 times in the Fighting Pits
Challenge Blitz Acres 2 times
Upgrade Kingdom to level 20
Fortify Barracks 7 times

7

Sign-in successfully 7 times
Own one level 3 jewel
Fortify all towers to level 15
Defeat the 8th level in the Tundra on Easy