Info
Drop
Level 73

BP 769000

S 141000

35% Madantium

20% Rock Block
15% Magic Hammer
35% Lv.60 Low-quality Gear Chest
10% Elemental Contract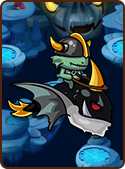 Flying Fish Knight is an enemy in Boss Clash. It's unlocked after defeating Shark Soldiers and needed to unlock Deep Sea Giant Tortoises.
Ad blocker interference detected!
Wikia is a free-to-use site that makes money from advertising. We have a modified experience for viewers using ad blockers

Wikia is not accessible if you've made further modifications. Remove the custom ad blocker rule(s) and the page will load as expected.