Goblin Target is an event. You use Bows and Arrows to try some Roulette by using Metal. Metal is obtained through Boss Clash, Fighting Pits and killing Treasure Hunters (limited to 5)
You have a chance to get Modern Outfits and Bow Necklace.
There is apparently no difference from using 1 or 10 Gold/Silver Bow(s) at once, meaning you cannot use 10 bows to increase your chance for the 16 roulette slots. Each "lottery go" has a 1/16 chance of any roulette number. Using 10 "lottery go's" does not increase the chance with 2nd go for 1/15 chance and so forth.
This can make you wonder why there are two lottery go buttons.
*Knight's Promise: If you get the Lucky Gold Bow Roulette 180 times, you will get a Bow Necklace.
Knight Sets
Edit
| Lv | Knight Medal (each one) |
| --- | --- |
| 20 | 80 |
| 40 | 220 |
| 60 | 450 |
Items Exchange
Edit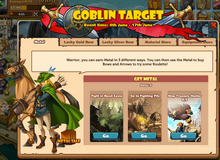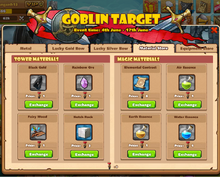 Ad blocker interference detected!
Wikia is a free-to-use site that makes money from advertising. We have a modified experience for viewers using ad blockers

Wikia is not accessible if you've made further modifications. Remove the custom ad blocker rule(s) and the page will load as expected.