During this Event obtain Magic Wands and use them to open treasure chests (the "books") on the map (the "bookshelf" in the Search tab of the Event window).
Open all 36 chests on the map to complete one Round and reset the map for another Round.
There are a total of four Rounds (4 x 36 = 144 chests). All chests contain Awards. See below for the complete list of Awards (also on the Award list tab of the Event window). Each Award appears only once.
In each Round exactly one chest contains an orange shard (Necklace, Cloth, Tassel, and Gem) which can be combined in Armory into a Persian Ring, a Legendary equipment item.
When opening each chest there is a chance of getting a Relic. Get all four relics to receive the Mystery Gift.
Note that Magic Wands can only be obtained from gathered Wood during the first seven days of the event only. After that they become a Diamonds only feature.
Ten pieces of Wood can be exchanged for one Magic Wand. The sources of Wood are:
These sources reset every day while gathering Wood is enabled (the first seven days of the Event).
Note: You do not have to win the level (and thus lose energy points) for the Treasure Hunter kill to register. You do however have to finish the level. So, you can lose the level if you want to preserve energy.
On average you can expect to gather 147 Wood (7 days x 21 Wood) or an equivalent of 14 Magic Wands. All unused Wood will be removed at the end of the seventh day.
Magic Wands can be purchased with Diamonds:
40 Magic Wands for 340 Diamonds (unlimited purchases)
If any unused Wood pieces are left after all possible pieces have been collected on the seventh day (less than 10 needed for a Magic Wand), Diamonds can be used to purchase the missing Wood to get a new Magic Wand at 1 Wood for 1 Diamond. This has to be completed before the end of the seventh day of the Event.
Rewards from Relics (a Mystery Gift)
Edit
Gather all four relics and you get a big reward.
| Type | Reward |
| --- | --- |
| 1 | 5000 Gold, 5000 Honor, 5 Elemental Contract, 1 Potent Bomb, 1 Dark Soul Crystal |
| 2 | 10000 Gold, 10000 Honor, 10 Grindstone, 5 Magic Hammer, 4 Upgrade Tome |
The approximate chance of getting a relic while opening each chest is:
First relic - 80% (Ice Cream)
Second relic - 20% (Bell)
Third relic - 2% (Bow)
Fourth relic - 0.01% (Balloons)
All relics can be purchased with diamonds. The price goes down with each discovered relic and the cost depends on your Kingdom Level:
98 diamonds when no relics have been discovered;
78 diamonds when one relic has been discovered;
38 diamonds when two relics have been discovered;
 ??? diamonds when three relics have been discovered.
Rewards from Rounds
Edit
The average and the total values of Awards increase with each Round:
Round
Avg. Award

(Diamonds)

Total Round

(Diamonds)

1
20
738
2
21
775
3
22
805
4
26
940
Event Help Screen
Edit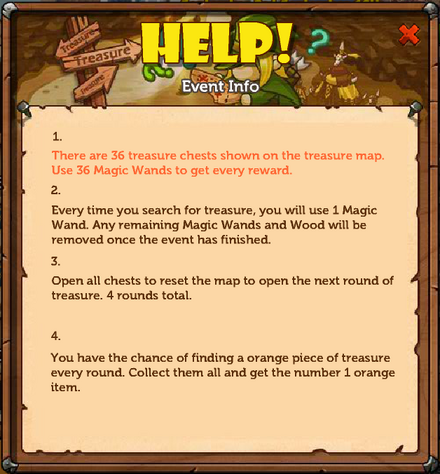 Ad blocker interference detected!
Wikia is a free-to-use site that makes money from advertising. We have a modified experience for viewers using ad blockers

Wikia is not accessible if you've made further modifications. Remove the custom ad blocker rule(s) and the page will load as expected.