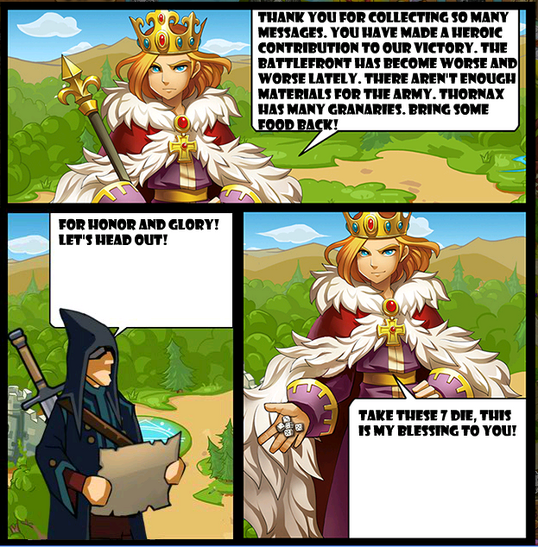 Ranger Squad III is another event that follows the Ranger Squad tradition. Users have to gather wood to forge dice from it. Up to 9 pieces of wood can be gathered every day. In the beginning of the event you are given 5 Regular Wooden Dice, 1 Purple Magic Dice, and 1 Remote Control Dice.
A good news is that these dices are no longer put in your inventory; a bad news is that you must use all of them before the end of the event. If you get all of 4 map pieces (Revolver, Binoculars, Signal Shot, Map), you can earn a treasure chest that rewards you depend on your level. Each of them can be got by completing a level.
From Treasure Chest
Edit
Level
Rewards
Diamond value
10-30

10 Fairy Wood
1 Dark Soul Crystal

38 x 4
31-70

5000 Gold
5000 Honor
5 Rock Block
5 Elemental Contract
10 Grindstone
2 Dark Soul Crystal

98 x 4
71-90

10000 Gold
10000 Honor
5 Rock Block
10 Magic Hammer
5 Grindstone
2 Dark Soul Crystals

128 x 4
Mechanics
Edit
The point of this game is to select the dice you want to roll, click "go" await the result and get your character to move to the area that many steps ahead. You are awarded the designated reward if you land on an area. There are also special areas, called "Land of the Unknown". These can have a variety of effects: Advancing or moving back one or two squares, getting double rewards on your next area or moving straight towards the goal.
By reaching the goal (the traffic hub) you are given Flour. The more of this you gather, the higher your rank will be.
Acquiring Wood
Edit
Wood is needed to make regular wooden dice, to get this wood you can:
Multi Research
Edit
You can buy dice of different types with Diamonds.
On the Map
Edit
These rewards are the ones given by the Bazaar or the Ranches.
From Ranking (per level)
Edit
The rewards will stay the same during this event, but the Robe will change to other sorts of Equipment.
Order: Robe - Hat
From Ranking (global)
Edit
Ad blocker interference detected!
Wikia is a free-to-use site that makes money from advertising. We have a modified experience for viewers using ad blockers

Wikia is not accessible if you've made further modifications. Remove the custom ad blocker rule(s) and the page will load as expected.