Sea Horse Soldiers Edit
There are a lot of ocean protectors looking for us. We'll be able to use their carcasses for different things.
Hit Points
Damage
Armor
Lives
12240
0-0
No
1
Speed
Range
Air

Goods

Normal
No
Yes
30
Attributes
Flier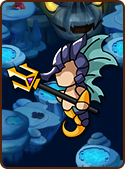 Sea Horse Soldiers is an enemy in Deep Sea. They're fliers. It's also the Sea Horse Soldiers in Monster's Den and unlocked after defeating Deep Sea Giant Tortoises and needed to unlock Lantern Fish Priests.
Ad blocker interference detected!
Wikia is a free-to-use site that makes money from advertising. We have a modified experience for viewers using ad blockers

Wikia is not accessible if you've made further modifications. Remove the custom ad blocker rule(s) and the page will load as expected.