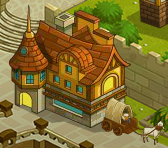 The Supply Station is one of the game's buildings. Here you can get resources at the cost of 100 gold each (or diamonds) and a long cooldown. Part of your Daily Tasks is to complete two supply runs.
To unlock it, you must finish the Grasslands 8th level on Hard (the prerequisite to get supplies from any world zone is to beat all scenarios from that zone, on the three difficulties, no particular star number needed).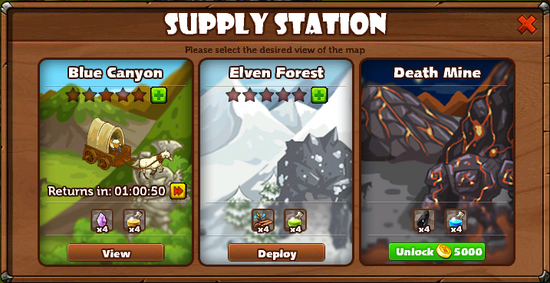 Deploy Options
Destinations and resources

| Overview | Blue Canyon | Elven Forest | Death Mine |
| --- | --- | --- | --- |
| Unlock | Complete all Grasslands levels | Complete all The Tundra levels, then pay 2500 gold | Complete all Lava Plains levels, then pay 5000 gold |
| Rewards | | | |
Deploy options

| Time | Cost | Result |
| --- | --- | --- |
| 8H | 800 Gold | 4 each of above material |
| 16H | 26 Diamonds | 8 each of above material |
| 24H | 34 Diamonds | 12 each of above material |
All destinations and deploy options have a 20% chance to earn a Mystery Chest. This chest has a chance to earn one of the below items:
These Soul Shards are needed to upgrade the rank of your heroes, and this is the main source of them for Durin Atomika. See Rank for details and related strategy.
Slots
At first you can deploy to only one of the maps at the same time.
If you want to deploy two wagons at the same time, the second slot costs 3500 gold and 2 Dark Soul Crystals (Armor Games and Kongregate version) or to invite a friend to help you (Facebook version)
To deploy three wagons at the same time (third slot) the cost is 30 diamonds.
When you unlock a 2nd or 3rd slot, then you will be able to deploy in 2 or 3 slots permanently.
You can also upgrade the slot to make the supply run include 1x more of each resource. This should be done with care, for it will increase the cost of each run, and you want to be able to cram as much runs as you can in one day for the added chance of Mystery Chest (see rank). In short, before upgrading a Supply Station slot make sure you are getting enough daily gold to keep sending Supply Runs constantly.
Cost to upgrade:
| Star | AG & Kongregate | Facebook |
| --- | --- | --- |
| 1 | 10 Notch Rock, 2 Dark Soul Crystal | 5 Fantastical Flower, 2 Dark Soul Crystal |
| 2 | 30 diamonds | 10 Fantastical Flower, 10 Arrow Shower, 2 Astral Map, 3 Dark Soul Crystal |
| 3 | 60 diamonds | 100 Diamonds |
| 4 | 120 diamonds | 200 Diamonds |
| 5 | 240 diamonds | 400 Diamonds |
First star: 10 Notch Rock or 5 Fantastical Flower (Facebook) + 2 Dark Soul Crystal (Transport cost will increase to 1000 Gold for each 8 hours)
Second star: 30 diamonds (Transport cost will increase to 1200 Gold for each 8 hours)
Third star: 60 diamonds
Fourth star: 120 diamonds
Fifth star: 240 diamonds
VIP
VIP Effects
VIP 1 reduces supply transport time 20%
VIP 5 reduces supply transport time 40%
Old Version
On the old version, the deploy table was:
| Time | Cost | Result |
| --- | --- | --- |
| 8H | 1000 Gold | bring between 0-10 of above corresponding material |
| 16H | 32 Diamonds | bring between 0-20 of above corresponding material |
| 24H | 42 Diamonds | bring between 0-30 of above corresponding material |