The Tangled Swamp Edit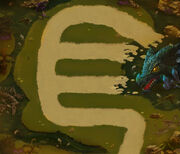 The citizens of your kingdom have great confidence you after your successive victories and more soldiers join your armyOf course, not being there themselves, they don't understand the gravity of the situationIt is not time to head home yet, it is time to enter the Tangled Swamp and fight the Mud Golems.
Mode
Live/Wave/Good
Exp/Gold
Item
Recs. Lv.

Life/Atk scale

Easy
20/18/2500
770/150
Quality Fairy Wood 12%
44
3.9/1
Heroic
5/1/2400
770/200
Quality Fairy Wood 15%

Pure Air Essence 11%

47
4.3/1
Hard
1/6/2300
770/275
Quality Fairy Wood 15%

Pure Air Essence 11% Notch Rock 40%

48
4.6/1.1
Strategy
Edit
Ad blocker interference detected!
Wikia is a free-to-use site that makes money from advertising. We have a modified experience for viewers using ad blockers

Wikia is not accessible if you've made further modifications. Remove the custom ad blocker rule(s) and the page will load as expected.