Wolfbane Edit
The Orc famous for his ability to tame wolvesThey will defend him with their livesHe wields a massive wolf-tooth club that is infamous for its ability to tear apart enemies
Hit Points
Damage
Armor
Lives
117000
6000-7200
No Armor
20
Speed
Range
Air

Goods

Slow
Melee
No
112
Attributes
Hungry, Hunter-trapper, Wolf Howl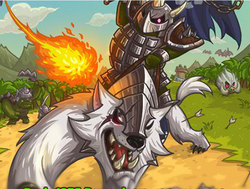 Wolfbane is the orc famous for his ability to tame wolves. They will defend him with their lives. He wields a massive wolf-tooth club that is infamous for its ability to tear apart enemies. After winning Canine Fortress, he disabled one of soldiers' horses and escaped. He's only boss who doesn't die even after being defeated.
He is a massive orc riding on top of a massive wolf he uses a mace to destroy any units you might have put in his way. He can kill 2 at a time.
He is on levels Canine Fortress and The Twisted Green.
He appears again on levels Flaming Plains, Desert's Grave, The Twisted Marsh.
Special Moves: Block one tower from attacking with a net. Can be cancelled by clicking. Howling increases move speed. Summon a lot of wolves to fight for him.
For stories, see here.
Ad blocker interference detected!
Wikia is a free-to-use site that makes money from advertising. We have a modified experience for viewers using ad blockers

Wikia is not accessible if you've made further modifications. Remove the custom ad blocker rule(s) and the page will load as expected.